Restaurant

Welcome to Buen Ayre
Argentina-raised John Rattagan was the family grill master from an early age, in a country where the asado (barbecue) enjoys near sacred status. Luckily for London, he left his homeland as a young man and set up Buen Ayre in the heart of trendy Hackney. The headline act is the steaks, served in a range of cuts with a simple garnish. Expect warm service, fine Argentine wines and the best steak you'll taste in the capital.
Elite Travelers World's Top 100 Restaurants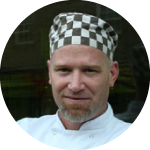 John Rattagan, Chef cook
Reservation

For reservations please call us preferably during office hours (9.00 to 15.00)
Contact Form We will contact you back as soon as possible
Please note that Due to the small size of the restaurant, the high demand and the small margins, we operate a 2 sitting policy (until and from 9).
- Due to the number of "no-shows" in our tiny restaurant, we are unfortunately forced to take a deposit of £10 per person on bookings of 4 or more people, which will be refunded or taken off the bill according to your preference on the day. Please note: If for instance a booking for 10 was made but only 5 turned up and we were not able to use the spare tables, then only half of the deposit will be refunded. - Please note that email bookings are not confirmed until you received a reply from us doing so. Emails sent outside office hours or on weekends may not be viewed until it is too late. - If you want to book well in advance, it is always better to do so during office hours since the restaurant is normally extremely hectic when open and some times taking people's details over the phone is extremely difficult.
In case you are arriving late, please let us know. If we haven't heard from you within 15 minutes of the time of your booking, we will release the table.
Location

50 Broadway Market London E8 4QJ
HOW TO FIND US
By bus
55 Leyton - Old Street - Holborn - Oxford Circus.
48 Walthamstow - Liverpool Street - London Bridge.
26 Hackney Wick - Liverpool Street - Bank - Waterloo.
106 Finsbury Park - Stoke Newington - Whitechapel.
254 Finsbury Park - Stamford Hill - Aldgate.
D6 Hackney Central - Mile End - Poplar - Crossharbour.
388 Blackfriars - Bank - Liverpool Street - Hackney Wick.
394 Islington - Angel - Hoxton - Hackney Central - Homerton Hospital.
236 Dalston - Newington Green - Finsbury Park.
By tube
Bethnal Green Station, Central Line (15 minutes walk). Walk up Cambridge Heath Road until Regents Canal, then take left after the canal and follow Andrews Road over to the market.
We are 10 minutes from Hackney Central Overground station, by Mare Street.
By train
London Fields, 5 minutes walk.
Hackney Central, 10 minutes walk.
Cambridge Heath, 10 minutes walk.